Heads up y'all! The holidays are fast approaching! 
The time between Thanksgiving until Christmas is 100% the most festive time of the year. We all know what that means, right? Lots of socializing with family and friends and big meals complete with yummy hors d'oeuvres, big roasted birds, and so...many... delicious sides. Food is hands down the best and most important part of the holidays. 
So, with Thanksgiving dinner, Christmas dinner and all the holiday parties in between --have you ever thought, what could make your holiday table setting stand out among the rest? …holiday themed napkin cutlery holders!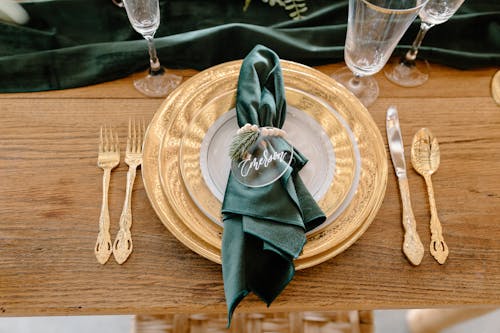 Additionally, they are a great way to skip the plastic-ware waste because you can use them anytime you need to bring utensils on-the-go. 
Have you ever wondered how to make cutlery holders? Turns out there are a ton of ideas online on how to either, make your own OR purchase Thanksgiving cutlery holders AND Christmas cutlery holders. 
If you're the hostess with the most-ess this Turkey-day, we found a few simple ways to make your own DIY Thanksgiving cutlery holders to make your table setting truly one to remember.
This first way is so simple, like folding a cloth napkin simple… Read on! 
How to make napkin cutlery holders from a large cloth napkin (Very easy)
Take a large cloth napkin. Fold the napkin into fourths. Begin by folding the napkin in half, and then folding it in half again.

Take the first layer on top of the napkin, and fold it diagonally. 

Flip the napkin over.

Fold the right side of the napkin almost halfway to the center. Then, press it down flat.

Repeat the previous step for the other side.

Then flip the napkin over and you'll see a neat fold in place. Insert your silverware or chopsticks and you're all set.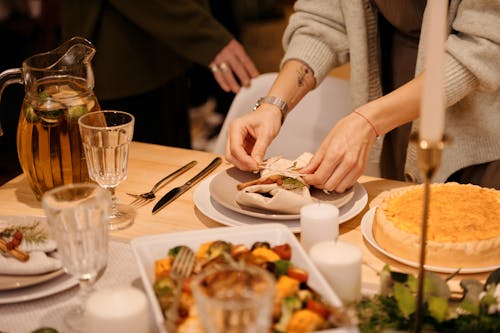 For another cool idea on how to craft your own easy napkin cutlery holder, check out this video. 
We also loved this easy, crafty take on a cute fall themed napkin cutlery holder. 
Then there's paper cutlery holders! AKA silverware sleeves. Did you know there are so many creative and fun ways to put your own DIY spin on Thanksgiving paper cutlery holders? Neither did we, until we looked into this topic. :)  
So, how to make paper cutlery holders? 
This is what we found: 
We loved this casual one that uses paper bags and paper napkins. 
We also really dug this bright, colorful utensil holder that uses scrapbook paper. 
If you are the crafty type, the choices are endless when it comes to fun prints and graphics. Mix and match as you please! Your dinner guests will be blown away by your creative pizazz and colorful place settings. They will want to steal all your secrets! hehe :)     
Now, let's cut to the napkin holder chase! We've got even more Christmas cutlery holders with DIY tips and tricks up our sleeve. There's tons of ideas for every Christmas decor scheme. How about amping up the metallic decor with napkin holders in a silver or gold color scheme? 
Or, if you have a knack for knitting, how about trying your hand at crochet Christmas cutlery holders? There's so many ideas for Christmas cutlery holders to craft, or purchase, so you can have yourself a merry little (or BIG) Christmas...dinner. 
How to make DIY Christmas cutlery holders, you ask? 
If you are one to bust out your sewing machine from time to time, we thought this video tutorial was easy peasy. 
Also, these stockings for christmas cutlery holders are just totally adorbs.
Plus, you can make all kinds of "Christmas friends" into cutlery holders too! Rudolph, Frosty, or the big guy himself… 
So, how to make Santa cutlery holders? you ask again? Check out this felt-tastic DIY design to make your own santa cutlery holder. 
Ok, so now that we have you thinking ahead about your Christmas utensil holders, let's jump back to all things gobble gobble, shall we? Your Thanksgiving party!
Whether you have a Thanksgiving or Friendsgiving coming up --or maybe both! whoa! You'll definitely need some Thanksgiving decorations and

Thanksgiving tableware

. Check out these cutlery holders that will get you into full on feast mode this Thanksgiving. Fowl steam ahead! 
Well, we bet you didn't know that holiday cutlery holders was such a diverse topic! There's truly something out there for every style. One thing is for sure, adding your personal spin on your table setting will make your holiday party one for the books.