We are about 2 weeks out from Turkey Day 2021! Fingers crossed, you've snagged your bird and all the fixins'. And with any luck, you have guests bringing a dish or two to help out. You've prepped the veggies, pre-made the pie crusts and have selected all of your favorite family recipes. Preparation is key because you want to enjoy the holiday, too, right? Right!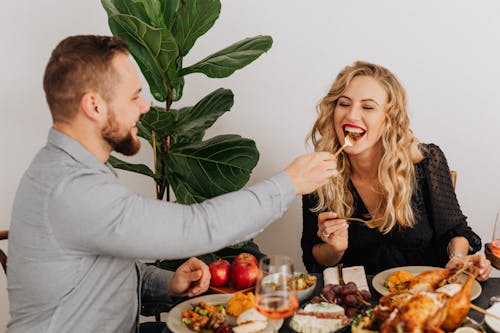 Well, preparation also means deciding how you're going to set the table and which Thanksgiving plates set you're going to use. 
Do you have special holiday china that always comes out? Or a handed down set from a relative? How nice if you do! But if you don't, we've got some ways you can dress your table setting with an ambiance that exudes warmth, happiness, and the cozy spirit that Thanksgiving brings. *sigh*
My oh my, there are innumerable ways to dress up that table something special! thanksgiving decorations, tea lights, and thankful reminders can all add to the vibe. As far as place settings go, we know for sure that one plate per person just isn't enough. So, Thanksgiving salad plates are a must to have --whether you use them for salad or not! The extra room is for sure needed, so you're not getting up too soon for seconds. 
We thought these Thanksgiving salad plates from Pottery Barn were simply, gourd-geous. We loved the water color designs and the green pops of color throughout. We also love the Plymouth Birds Thanksgiving salad plates set from Williams and Sonoma. 
Now, to make post meal clean-up a breeze, why not buy extra large oval Thanksgiving paper plates? The extra large shape makes it convenient for your guests to try everything and they come in so many charming patterns. Like these, or these!  
If you want to go the fancier route and you're a sucker for vintage designs, look up the Autumn Harvest dinnerware pattern by a company named Taylor, Smith, and Taylor Co. The Autumn Harvest dinnerware has become a collectible pattern ---but you can find pieces on Etsy. The china is a classic mid century pattern made between 1959-1965. The fab bright white is offset with a simple pattern of yellow and brown wheat heads and fall leaf foliage. It's beautiful and can be used all year long.  
We couldn't list off Thanksgiving tableware without one that features his/her majesty of all things fowl  --the turkey! Did you know, the turkey has been featured on holiday-specific china since the 1800s? The bird is the star of the show, indeed, and one popular dishware set that we absolutely love, featuring our feathered friend, is the Spode Thanksgiving plates, Woodland Turkey pattern. Which you can find here.     
Ok, now that we have ideas for place settings down, how about cutlery holders for the table?
We have a few of them right here! Check it out. 
Need desert, right? We're throwing in the cookie cutter set, too! 
Now, the part that ties the whole look together! A Thanksgiving table cloth that will have all your guests ooh-ing and aah-ing. 
A pro design tip: have your tablecloth and napkins highlight the accent colors in the dishware. This makes the pops of color in your dishware stand out even more. 
How about these Thanksgiving tablecloths from Pottery Barn, in a cheerful print? 
Or this red and maple plaid throw table cloth? 
There's so many reasons to love Thanksgiving. The warm fall colors, the crisp air, and of course, the excuse to stuff ourselves to the gills with a delicious meal surrounded by loved ones...also, pie!  
Whether you're a vegan, paleo, or an equal opportunity eater, we want to wish you good eats with your loved ones and hope your Thanksgiving is filled with happy memories. Until, next time!