Christmas 2021 is around the corner and omg, are we excited! After going through a global pandemic and the very toned-down holiday season that was 2020, we are eager to spend the holidays with our loved ones —and perhaps (gasp!) even throw a holiday party to make up for lost time. This year, we think there's a good possibility that people are going to want to go BIG on decking the halls, bake up a storm, and add more decorations to the holiday stash.
Retail Week's industry report, The Christmas Forecast, is predicting that people will spend more this year than 2020. But, even with a projected increase in spending, everyone's looking for a DEAL, right? Well you're in luck because we have a whole slew of budget-friendly buys to add to your indoor and outdoor Christmas decorations. Plus, we want to tell you about a few awesome year round Christmas decoration stores to buy holiday goods all year long!
But first, we want to highlight some Christmas 2021 Trends AND give you tips on how to amp up your holiday decor so you can have the most festive house on the block.
Christmas 2021 trends
It appears the search algorithms have spoken and we already know of some holiday trends coming down the pike. Here are the Christmas 2021 design trends we are seeing this year when it comes to Christmas trees, color schemes and decorations, according to our research.  
Christmas Trees
Christmas trees are of course a staple in a home that celebrates the holiday and there's many styles to choose from both real and artificial.
If you want a more traditional look, many choose the Nordmann Fir because of its even shape and sparse branches. The Fraser Fir tree is also gaining in popularity because its full body and wide branches provide ample room for elaborate decorations.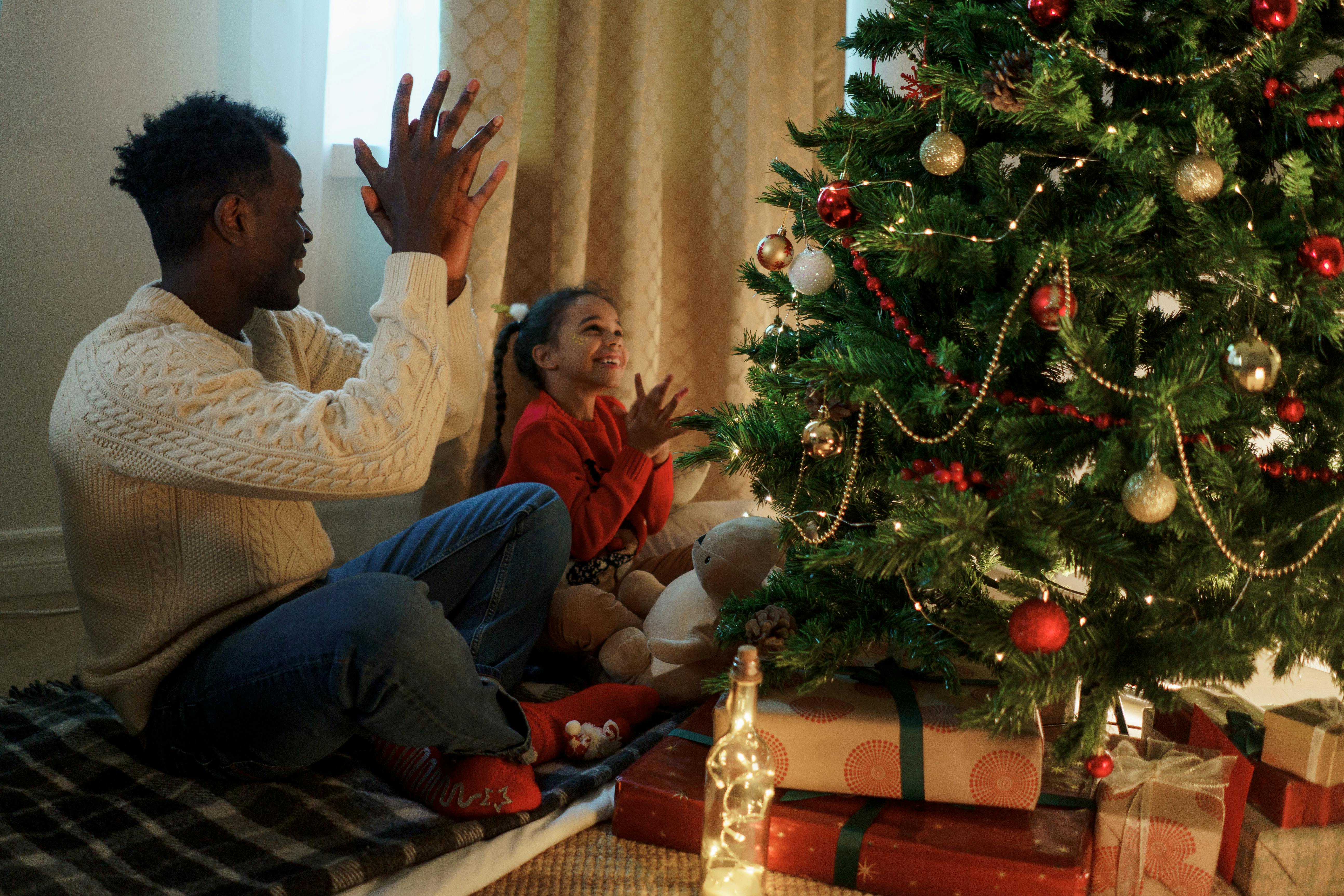 Of course we LOVE a fresh live tree as well, and home improvement stores like Home Depot typically have a wide variety to choose from. Prices start around $30 and go up from there depending on the size.
Ok, so now that we have trees covered, here's more Christmas decor trends popping up this season
Betcha didn't think there are other Christmas color choices besides the usual, red, green, gold and silver? Well according to Google, searches for "farmhouse Christmas ideas" is up 400% over the last five years. "Farmhouse Neutral" colors (think white, black, navy, and natural wood tones) are decidedly in this season --with people swapping out the traditional for a more muted, subdued look. Also, purples and jewel tones are on trend. 
Finally, anything retro nostalgia is making big waves with holiday decor in 2021. Think vintage-style ceramic Christmas trees, (fyi there are over 13,000 posts tagged #ceramicchristmastrees … who knew?!) wooden ornaments, and Grandma's holiday linens all provide that soul-soothing holiday comfort.
Of course we can't forget decorating outside of the house! Adorning your outdoors lets you bring your creative spin, while also bringing Christmas cheer to the whole block! Sparkling LED lights, fun 3-D decorations and even inflatable Christmas decorations are fun and festive additions to your outdoor space.
Here's our favorite outdoor Christmas decorations from our collection!
Collapsible Snowman LED Yard Light  
If you're someone who favors traditional over trendy, this jolly tinsel Snowman light for you! The light comes with durable pre-wired frames and is a breeze to set up. Perfect for indoor/outdoor use.
 Penguin Yard Light 
The adorable Penguin Yard Light will bring a warm and fuzzy feeling to all who see your front yard.
Also be sure to deck out your doorway with an outdoor winter decoration like the

Christmas Let it Snow Hanging Door Banner
Create wonderful, lifelong memories for the youngsters in your life by letting them help you set up fun outdoor decor. Our items are ideal for winter outdoor Christmas decorations, and holiday parties! Plus, we have MANY MORE LED outdoor displays to choose from! 
Large Santa Claus on Fancy Sleigh Inflatable
This friendly Santa Clause and his trusty reindeer will light up the evening and provide a cheerful greeting.
Christmas Outdoor Inflatable Gingerbread Archway
This 10ft Tall Christmas Gingerbread House Archway inflatable yard decoration looks right out of a Christmas fairy tale. Kids will have a blast playing in the yard, running under the arch, and entering "Gingerbread Land!"
Dino-Mite Inflatable Christmas Decoration
Santa is having a rawr-some time delivering his packages with this 6ft tall  inflatable decoration.
Indoor Christmas Decorations
Ok, now back to decorating indoors! We know that indoor Christmas decorations are WAY more than just the tree. There's many ways to utilize twinkly lights and greens to add warmth and cheer to your space. Light up indoor Christmas decorations will make your space unique and fun.
Gold Star Tree Topper!  
Having a holiday party? If so, make your tree topper double as a strobe light to bring twinkly magic to your guests.
Also, the

Star Curtain String Lights

 are striking indoor window Christmas decorations perfect for adding a warm glow to any room.
And let's not forget garlands make an excellent adornment for indoor archways, fireplaces and banisters.
To find great decor, support a local or online Christmas store!
Did you know there are Christmas stores online that are up and running year round? Not to mention, yours truly, Joyin and Joiedomi have decor for Christmas and all major holidays all year long! Christmas stores like, The Jolly Christmas Shop and Robert's Christmas Wonderland in Florida are some of America's largest. And don't forget, on Black Friday and Cyber Monday, Christmas stores have the best discounts of the year!   
We want your Christmas 2021 to make up for last year in a BIG way and we hope these tips inspire you to make your home the most magical and inviting space for you and your family. Happy Decorating!