Will quarantine be over by Halloween? If you find out, let us know! It seems like every month, something major changes in terms of how people are "allowed" to interact. Given all the uncertainties, it might be a good idea to celebrate Halloween at home this year. You can make your own spooky fun and save the bigtime bash for when this is all over. No party, no problem!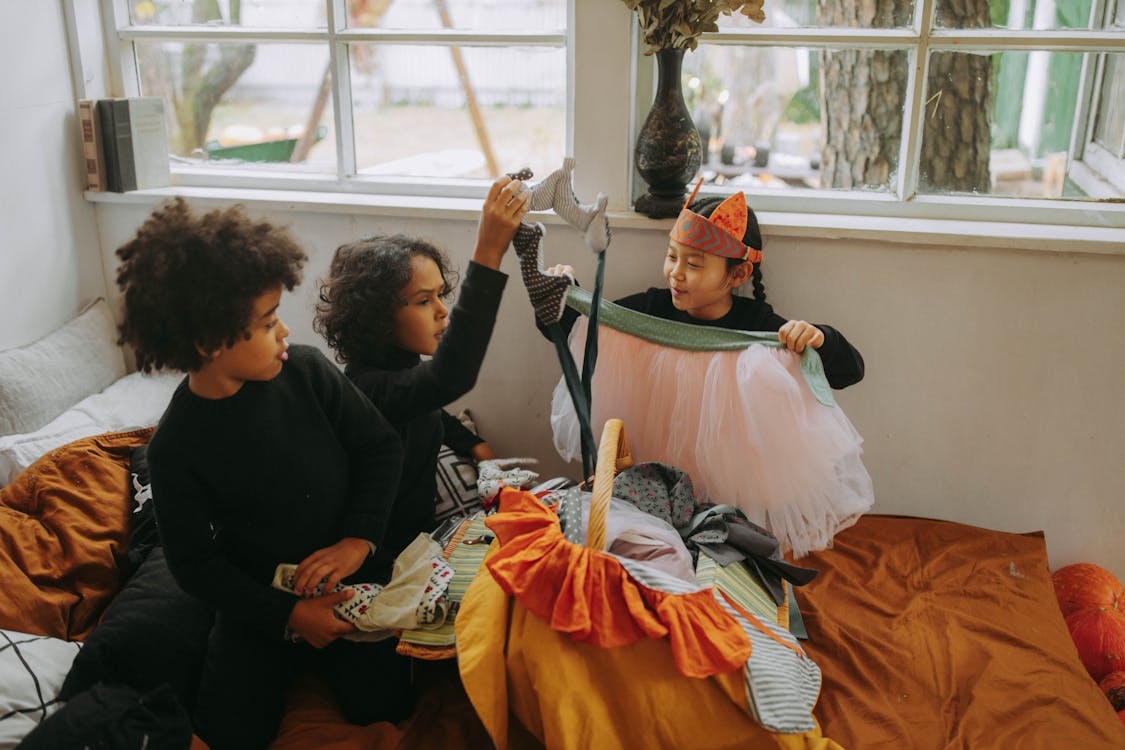 Turn your Home Into a Haunted House

Of course, you were going to bust out the scary Halloween decorations either way, right? This year, you can go big AND go home. We must say, the "no trespassing" Halloween signs take on a whole new meaning this year… You've been to a haunted house before, why not recreate it at your place?

Start outside, with creepy Halloween figures trying to break free from the grave and into your home. Load up your lawn with haunted yard decorations involving crumbly tombstones and half-buried skeletons, and spread some spiderwebs across the bushes. What if you set up a fog machine this year?

An eight-foot tall inflatable ghoul might be fun, if you want to scare the actual candy out of little kids! If that is your idea of a good time, a hanging ghost dress in rags would also look "great" creeping up a tree or the side of your house (as would these disembodied eyes). Once the sun sets, you could tell the kids ghost stories as you sit under a twinkling web of lights...

If you want to avoid trick-or-treaters this year (or you live in an apartment building) it is perfectly acceptable to decorate the inside of your home only. You can get as crafty and creative as you'd like, or you could simply incorporate the colors of the season into your decor: blood red, witch green, pumpkin orange and deathly black.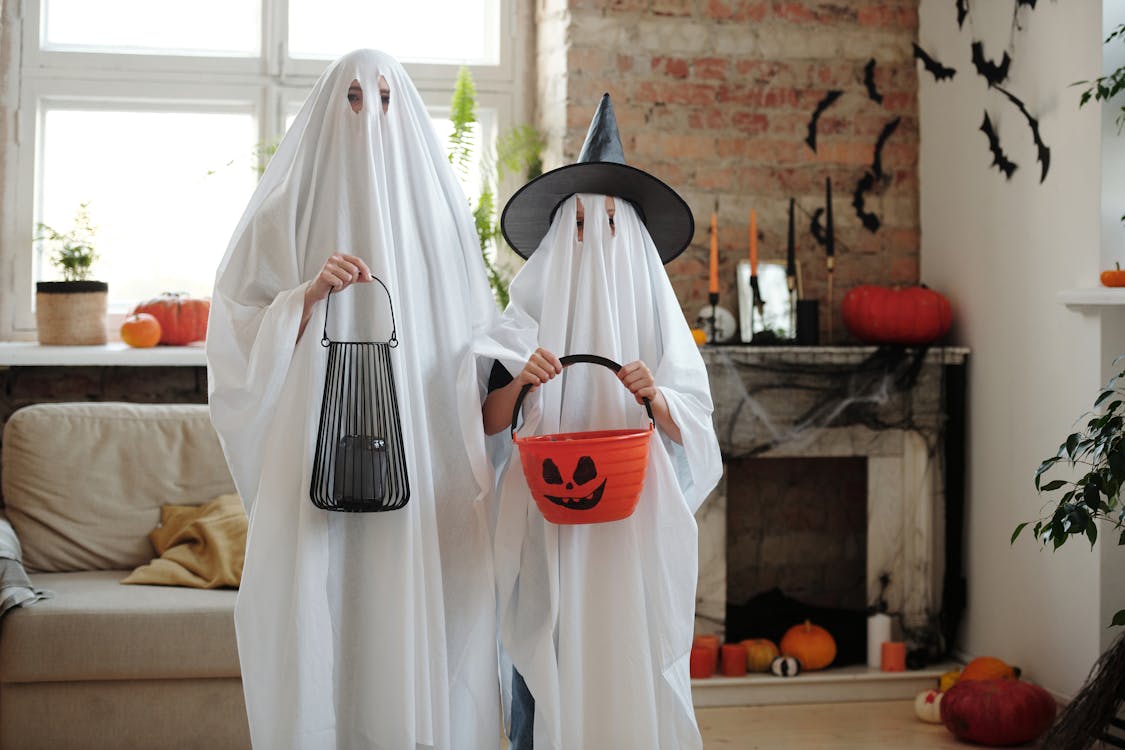 Grab Some Cute Halloween Costumes For Kids

Got kids? For all they know, a quarantined Halloween is the best way to celebrate! For better AND for worse, kids watch you closely and will react the way you do—is Halloween at home a terrible loss, or is it an opportunity to have some haunted fun with the family? It's really up to you.

If you want to go down the "cuteness overload" route, there are adorable Halloween items for kids beyond the usual Halloween costumes for kids, things like  pumpkin headbands or necklaces. Because they'll miss out on trick or treating this year, it is a good idea to incorporate candy into their home Halloween celebration. You could remix the sugary tradition and play the "ghosting" Halloween game instead, where you anonymously leave a bag of candy on a friend's doorstep! If you'd rather not leave the house, you could set up a chocolate treasure hunt indoors, or bake and decorate deadly (and delicious!) cookies together.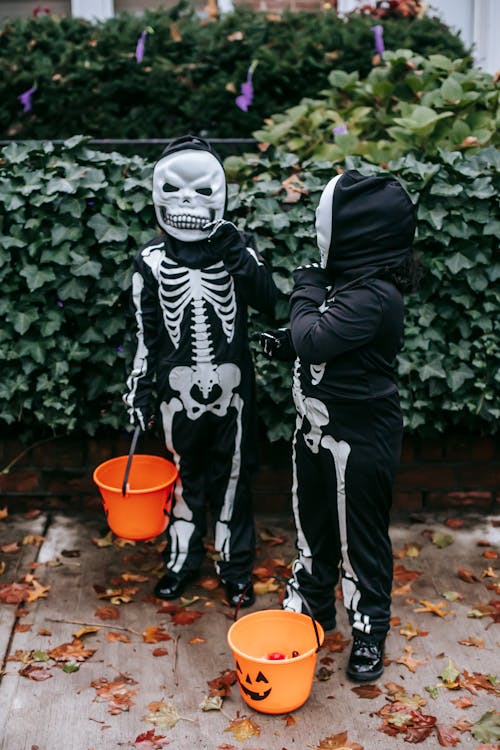 If All Else Fails, Try These Remote Halloween Party Ideas
Apparently the only way to celebrate Halloween in 2021 is to stay six feet apart from everyone else, so your options are kind of limited. A huge inflatable costume might be fun here, or a jumbo bobblehead mask (unfortunately they are not virus-proof, so you'll still need to mask up).

Honestly, it might be more fun to celebrate this unique Halloween by staying home and online. Find a way to connect remotely! You could take a page from TikTok and do a Halloween makeup contest with friends and family. This way you can celebrate together (while apart) by attempting the same complicated costume or look. Who wore it best?  Remember to take a ton of photos (some folks will prefer photo booth props to makeup).

On that terrifying note, what about filming a horror movie together? Each participant could record a few seconds and you could edit them together. Or if you just want to "relax," you could turn on the TV and watch the familiar favorites like Scream,  Hocus Pocus, Rosemary's Baby or The Addams Family. Happy Halloween!

Want to make your Halloween more outstanding? All you need is to add some creative ideas to your home decorations. Consider incorporating inflatable Halloween decorations such as a blow-up dragon, a blow-up haunted house, an inflatable UFO, an inflatable dragon Halloween prop, or a Halloween inflatable spider. Additionally, we offer the most creative ideas for garage door Halloween decorations, including easy trunk or treat ideas for SUV, Halloween trunk decorating, and scary trunk or treat ideas.
This Halloween, we say: no party, no problem! You can make your own Halloween fun at home this year and save the party for another time. We hope this gave you some great ideas for the spookiest time of the year.